What is it and how does it work?
SEO & Website Optimization
When it comes to digital marketing, the most important resource any company has is an informative, organized, and search engine optimized website.
The Impact of SEO
Are your prospects finding you?
In today's hyper-digital world, consumers are using the internet to immediately and independently find information online. Your website is where most, if not all, of your digital content exists, which makes the messaging and organization of your site imperative for leads to find your website and the valuable, specific content you've created to answer their questions.
We know that most web users start searching for information in the same place: a search engine. There are a handful of search engine options out there, with Google being the most influential in the industry. Optimizing your website for search engine traffic improves your chances of being found online for topics related to your company, products, and industry.


Search engine optimization 101
What is SEO?
SEO stands for search engine optimization and is the process of creating strategy, content, and metadata in order to rank highly in search engine results pages (SERPs) for targeted keywords and phrases.
Whew, that was a lot to digest. Let's break it down.
Search Engine Strategy: If your SEO was a science experiment, your strategy is the hypothesis stage. This is where user and market research, keyword research, content organization, and digital marketing best practices help inform the ideal optimizations for both short- and long-term success. This step in the SEO process is often overlooked, which is why many businesses put time and effort into optimizing their website and still see poor results. If your hypothesis is faulty, your whole experiment likely will be, too.
Search Engine Optimized Content: Whether you're creating new content or optimizing existing content, all the words used on your website can be optimized for organic search engine traffic. Optimizing content is a balance of providing valuable, understandable information for both human website visitors and search engine crawlers (we'll talk more about crawling in the How Do Search Engines Work? section below).
Search Engine Metadata: Let's start with the obvious question — what is metadata? Metadata is data that describes other data. When talking about SEO, metadata is the additional information you provide to search engines about other data (content) on your website. SEO metadata includes components like:
Meta descriptions

— which provide additional information about your website page as a whole
ALT text

— which provide information for website visitors who use adaptive tools like screen readers and for search engines to understand what is included in an image
Title tags

— which provide information to search engines about the title of your web page; this is also what appears as the text in a browser tab
Targeted Keywords & Phrases: Think about the last time you searched for something online. You likely used a collection of words or a phrase to find what you're looking for. When optimizing a website for organic search traffic, targeted keywords and phrases are the ones you want your company to be ranking highly for. These can include words or phrases relevant to your industry, company, products, or other terms your customers may be using online. Targeting keywords is important because it narrows your content focus in an attainable way.
Search Engine Rankings: Ranking refers to the position a web page has in a list of search engine results after a query has been submitted. Depending on the search query, there can be thousands and thousands of resulting webpages found by a search engine. A search engine will display the results to a query on however many pages it takes to display all the results (which are called SERPs by digital marketers). Ranking is the placement of a single web page. So if Google thinks you have the most accurate and informative answer to a question, your web page will be the first link with a top or first page ranking.
How Do Search Engines Work?
Search engines work by crawling billions of websites and indexing every single page to create a robust catalog of information available online. Crawling is the term used by programmers and other digital professionals to refer to automated programs that methodically browse and capture web data. This wealth of data gathered by search engine crawlers includes all discoverable URLs along with relevant key identifiers of URL content such as:
Streams of data formulated by complicated algorithms compare all relevant information before determining a website ranking on search result pages for specific queries related towards the information on that particular page. The goal of search engine algorithms is to provide the most relevant and quality search results to fulfill each user query/question as efficiently as possible. Every search engine has their own program for crawling the web, and the exact specifications that an algorithm uses to crawl and rank data is typically a closely-guarded secret. As digital marketers, we use information made available by search engines about algorithm changes (like Google's semi-regular public updates) along with trends in marketing best practices and changes in online user behavior to inform SEO strategy and execution.
begin your SEO journey with us
Let's get you found!


Is it right for my organization?
Why should I care about SEO?
Website optimization and informative content work hand in hand to drive organic search traffic to your website. If either piece is missing, your company likely isn't seeing high organic traffic online. Some companies make up for this lack of optimization by leaning heavily into other traffic-drivers like pay-per-click advertising, email newsletters, and other digital marketing tactics. While these tactics can also produce strong results, they can't make up for the leads a company is missing out on from organic search.
Having an optimized and informative website is how your company gets found on search engines. If you want to be seen as an expert in your industry, then your website needs to rank highly with search engines. By focusing on SEO optimized content, strategy, and metadata you can help SERPs identify your website and company as a valuable source of information. This will ultimately generate more leads from organic search traffic.
*It's important to remember that SEO is a continual process with long-term gains. Many companies looking for short-term wins turn to SEO as a lead generation tool. While it's one of the most powerful tools in your digital toolbox, it's one that builds upon itself and takes time to see significant results.


Let's dive deeper
How Does SEO Work in Practice?
Now that we know how search engines work and why it's important to prioritize SEO across a company website, let's talk about implementation and SEO in practice.
Good SEO provides enough data for search engines to crawl your website and understand the topic, content, and additional resources available on each web page.
Great SEO improves your chances of ranking highly by treating content and SEO holistically to provide the best possible experience for both human and computer visitors.
How to Optimize a Webpage for Search Engine Traffic
There are a few different basic requirements you'll need on each webpage to cater to search engine crawlers:
* Your SEO strategy should include implementing targeted keywords into all of the following web components. We'll cover that targeting process more in the following section.
URL slug
Page title
Headings (H1 - H6, but H1, H2, and H3 headers are the most important)
Meta description
Content
ALT tags
Let's get to work
Time to start ranking?


SEO tactics to enhance basic optimization
The Tactics
Every optimization made across a website can have a positive impact on search engine rankings and organic search traffic. While basic optimizations are important to begin establishing targeted topic associations with search engines, the real SEO work doesn't stop with metadata. There are dozens of factors that can have an impact on how search engines including Google are determining your website ranking.
SEO & Website Audits
Auditing your website should be the first step in developing effective SEO strategies. An SEO audit provides insights into how well individual pages and your website as a whole are set up for search engine crawlers. This is a good place to start to determine quick-win optimizations and establish a baseline for measuring success.
A website audit is a more robust and in-depth look at both SEO, content, and infrastructure across a site. All of these factors influence search engine ranking and can provide a holistic approach to optimizations.
Targeting Keywords
When completing keyword research, you have to determine where your leads are looking online for information and what words and phrases they're using. We recommend taking an inbound approach to your keyword targeting and research. The more knowledge you have about users from data and personas, the more you'll be able to strategically target the words, phrases, and information that your leads are using online.
Keyword Research
Keyword research is the process of determining which keywords and phrases are most relevant to your website, then optimizing website copy to improve website ranking and score. When it comes to keyword research, it's important to look at search volume, difficulty, CPC and the intent of someone searching with that keyword to determine its importance to website development. Tools like SE Ranking and Answer the Public can help inform your research.
Keyword Mapping
Keyword mapping is the process of mapping individual keywords to pages on your website that speak to the information a web visitor using those targeted keywords might be looking for. Keywords should be relevant to the content that will be on your specific website page, and adding keywords where they don't fit into your copy or when they have nothing to do with the content will get you dinged by search engines. The reason being that if someone enters a search query using a keyword you selected, they should be taken to a page that is relevant to their search. The more helpful and relevant your content is at answering questions related to a specific topic, the higher your website will rank on SERPs.
Optimizing Existing Website Copy
Once you have determined which pages to attach to which targeted keywords, it is time to move on to implementation. This is the process of integrating keywords into your content and page structure to support that topic focus. It's important to focus on providing valuable content that will enrich the reader's understanding of their search query. Take into consideration the psychology behind how people are using your website, what information they are looking for, and how they search for that information in a query.
Ideally, almost every page on your website should have 1-3 targeted keywords utilized in content and SEO metadata. Your primary keyword should be used in each of the components listed in the Optimizing a Webpage section above.
Creating Content
Content is the bread and butter of any effective inbound marketing campaign. The various assets available on your website are a virtual representation of your company, and SEO plays a big role in whether web users can find those resources. That's why it is important to write copy that is clear, informative, and accurate. If someone clicks on a link to your website, and the landing page doesn't have the advertised information they came for, they are likely to bounce back to their search results and away from your website.
Content is a broad descriptor, and the exact optimizations necessary for each type of asset your create on your website will vary. Think about the components search engines are looking for when creating content. If you're not sure where to start, an SEO audit or website grading tools can be helpful to see what easy optimizations may be needed. Recommendations often include SEO metadata like page titles, ALT text, meta descriptions, etc.
Topic Clusters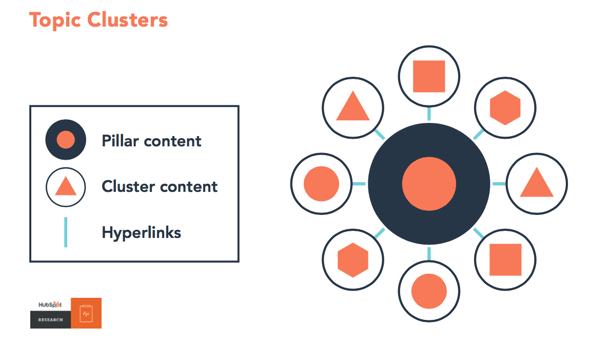 Topic clusters are groups of interrelated digital content that cover a specific topic in-depth. A topic cluster is composed of a pillar page with any other content or assets about the topic linked back to it. Topic clusters help search engines understand how resources and information is organized across your website (and help users find what they're looking for more easily). By linking internal content to these pages, it signals to search engines that there is a semantic relationship between pages of content. The topic cluster also creates breadth and depth in content, which gives the pillar page more topic authority (because informative anchor text still matters for strong SEO). The more organized your linked content, the greater the reward in terms of search engine ranking.
Blogging
Blogging is one of the most effective ways to provide valuable information to leads. We know that search engines like Google are looking for up-to-date and original content, so regularly publishing informative and accurate blog posts helps boost your rankings, get your website in front of people, and establish your company or brand as a thought leader in your industry. Blog posts are an ideal tool to use when building out a topic cluster around a pillar page.
Backlinking
Backlinking is the process of building website authority when other websites link to yours. Search engines determine your authority in an industry when other brands are referencing you for information. The higher your authority, the better your search ranking will be. Additionally, linking to your own content across your website improves your rank as you develop topic clusters of interconnected information.


What to Expect
Working with an SEO Agency
Depending on the capabilities and skill sets of your marketing team, your company may handle SEO in-house or need outside support. Either route can provide the targeted optimizations your website needs to rank well with search engines.
Search engine optimization is one of many tools our experts use to craft comprehensive digital marketing campaigns. Having a well-optimized website is foundational for almost all other digital marketing tactics, which makes SEO an integral part of many campaigns we design for organizations across industries and levels of previous optimization.
Our Process
Our approach to SEO is essentially what we've laid out here. It's a process of working with existing and anticipated assets to create and implement optimization strategy. Our search specialists work with clients to inform targeted keyword research, complete an SEO website audit to establish a baseline, and determine where SEO metadata needs to be implemented or updated. Additional SEO tactics can include backlinking and content syndication, depending on the digital assets a company has available.
If your organization is looking for support with search engine optimization and strategy, we're here for you. We'd love to talk more about your digital marketing needs, website, and current optimizations in place.


Never stop learning
Additional Resources
From the SEO Experts at HIVE
From Other Pros in the Industry
Let's Get Started
Ready to Start Your SEO Journey?
Our team is here to answer any of your questions and help you start climbing the rankings! Let's get to work!